Winnie Madikizela-Mandela est morte _ Winnie Madikizela-Mandela died at the Netcare Milpark Hospital, Johannesburg, South Africa on Monday the 2nd of April 2018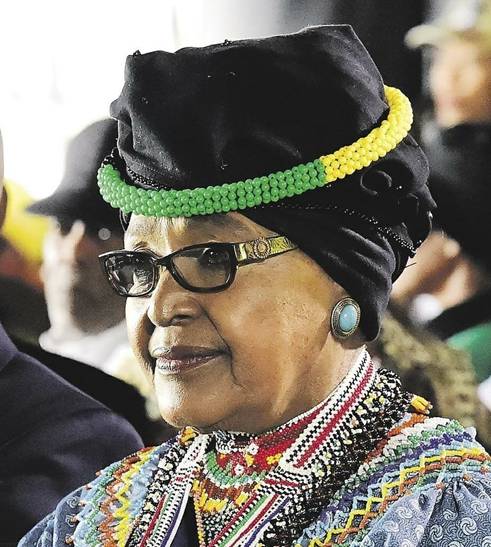 It is with profound sadness that we inform the public that Mrs Winnie Madikizela-Mandela passed away at the Netcare Milpark Hospital, Johannesburg, South Africa on Monday the 2nd of April 2018.
She died after a long illness, for which she had been in and out of hospital since the start of the year. She succumbed peacefully in the early hours of Monday afternoon surrounded by her family and loved ones.
Mrs Madikizela-Mandela was one of the greatest icons of the struggle against Apartheid. She fought valiantly against the Apartheid state and sacrificed her life for the freedom of the country. Her activism and resistance to Apartheid landed her in jail on numerous occasions, eventually causing her banishment to the small town of Brandfort in the then Orange Free State.
She kept the memory of her imprisoned husband Nelson Mandela alive during his years on Robben Island and helped give the Struggle for justice in South Africa one its most recognisable faces. She dedicated most of her adult life to the cause of the people and for this was known far and wide as the Mother Of The Nation.
The Mandela family are deeply grateful for the gift of her life and even as our hearts break at her passing, we urge all those who loved her to celebrate this most remarkable woman.
The family will release details of the memorial and funeral services once these have been finalised. RIP
By SunReporterMonday, April 02, 2018 16:29
----------------------------------------------
Winnie Mandela, ex-épouse de Nelson, est morte
Egérie populaire mais controversée de la lutte anti-apartheid, elle fut la deuxième épouse du premier président noir d'Afrique du Sud, Nelson Mandela.
LE MONDE - 02.04.2018 à 19h30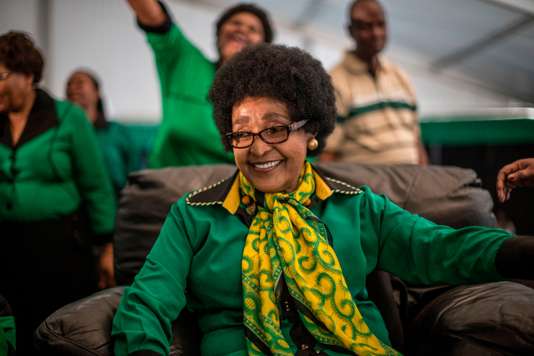 Winnie Mandela, le 26 septembre 2016. MARCO LONGARI / AFP
Winnie Mandela, l'ex-épouse de l'ancien président sud-africain Nelson Mandela, est morte à l'âge de 81 ans des suites « d'une longue maladie », lundi 2 avril à l'hôpital Milpark de Johannesburg, a annoncé son porte-parole.
« Elle est décédée des suites d'une longue maladie, pour laquelle elle a été hospitalisée à plusieurs reprises depuis le début de l'année. Elle est partie en paix en tout début d'après-midi lundi, entourée de sa famille », a déclaré Victor Dlamini dans un communiqué.
-----------------------------------
Winnie Madikizela-Mandela, anti-apartheid activist and 'Mother of the Nation,' dies at 81
By Robyn Dixon - Apr 02, 2018 | 11:55 AM - | Johannesburg, South Africa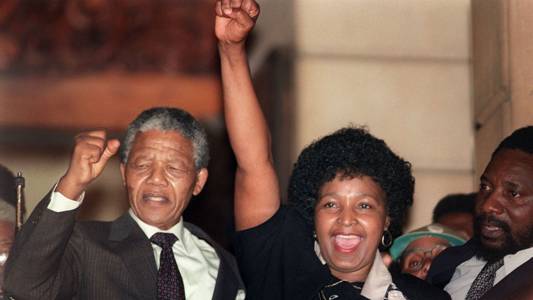 In this file photo taken on Feb. 11, 1990, anti-apartheid leader and African National Congress member Nelson Mandela and his wife, Winnie, raise their fists in Paarl, South Africa, to salute a cheering crowd upon Mandela's release from Victor Verster prison. (Walter Dhladhla / AFP/Getty Images)
Winnie Madikizela-Mandela, the former wife of Nelson Mandela who died in Johannesburg on Monday, was revered by many in South Africa as the "Mother of the Nation," but criticized by others over a brutal apartheid-era killing by her thuggish bodyguards.
Born in the village of Bizana in the Eastern Cape to parents who were teachers, she moved to Johannesburg and graduated from college as a social worker. She married Mandela in 1958, six years before he was sentenced to life imprisonment for treason.
She campaigned relentlessly for Mandela's release during his 27-year imprisonment, raised two daughters alone, faced harassment by South African security forces and served more than a year in prison, including time in solitary confinement, after being arrested by security police in 1969 in front of her children for violations of the Terrorism Act.
A prominent face of the liberation struggle to overturn the apartheid system of officially mandated racial segregation, she was "banned" by the government in 1962, a designation that barred her from giving interviews or attending meetings for 13 years. In 1977, she was banished to the town of Brandt in what was then the Orange Free State, and denied permission to leave. Her house was firebombed twice. In 1985 she defied the apartheid regime and returned home to Soweto, the black township outside Johannesburg.
FROM THE ARCHIVES: Winnie Mandela Defies Ban, Is Pulled From Home »
http://articles.latimes.com/1985-12-22/news/mn-20127_1_winnie-mandela
Madikizela-Mandela called herself the "grandmother of Africa" and once told an interviewer, "My continent knows more about me than I do myself." In 2016, the ANC called her "a fearless freedom fighter, stalwart of our movement and mother of the nation." Last year then-President Jacob Zuma bestowed on her the nation's highest honor, the Order of Luthuli.
A family statement released Monday called Madikizela-Mandela "one of the greatest icons of the struggle against apartheid."
But she left a contentious legacy because of her bodyguards' role in the killing of a teenage boy, as well as her support for "necklacing," a gruesome practice in which anti-apartheid activists would fasten tires filled with gasoline around the necks of suspected informers, and set them alight.
"With our necklaces and our boxes of matches we will liberate this country," she said in a 1986 speech.
More controversial was her alleged role in the death of 14-year-old Stompie Moeketsi, also known as Stompie Seipei, in 1989. The teen was abducted by her bodyguards, named the Mandela United Football Club, from the home of Methodist Minister Paul Verren in Soweto. The boy was beaten for days and slain using a pair of garden shears because he was suspected of being an informer.
Winnie Mandela was charged in his death but was convicted only of abduction and being an accessory to assault and was sentenced to six years' imprisonment. She appealed and had the accessory charge dismissed. Her sentence was reduced to a fine.
But the case came up again in 1997 during deliberations by South Africa's Truth and Reconciliation Commission, led by then-Anglican Archbishop Desmond Tutu, when her chief bodyguard, the "coach" of the football club, Jerry Richardson, who was convicted of the boy's murder, admitted he killed Moeketsi but said it was on Madikizela-Mandela's orders.
She denied any role while acknowledging that "things went horribly wrong." The commission report said various versions had implicated her in the boy's murder or its attempted cover-up.
"The Commission has not been able to establish conclusively the veracity of any of these versions. Ms. Madikizela-Mandela's testimony before the Commission was characterized by a blanket denial of all allegations against her. It was only…under great pressure from Archbishop Desmond Tutu that she reluctantly conceded that 'things had gone horribly wrong,'" the report said.
In 1992, shortly after his release from prison, Mandela announced that he was separating from his wife "in view of the tensions that have arisen owing to differences between ourselves on a number of issues in recent months." He dropped her from his Cabinet as deputy minister for arts, culture, science and technology in 1995 after allegations of corruption and divorced her in 1996.
In 2003, she was convicted of fraud while serving as an African National Congress lawmaker. She and her financial advisor, Addy Moolman, were convicted of writing fraudulent letters to obtain bank loans for nonexistent clients.
Initially sentenced to five years in prison, she appealed and was given a three-year suspended prison sentence, avoiding confinement.
In 2010 she gave an interview to the Pakistani journalist Nadira Naipaul, in which she was quoted accusing Mandela of letting down black South Africans and criticizing him for accepting the 1993 Nobel Peace Prize alongside the white National Party leader F.W. De Klerk.
"Mandela let us down. He agreed to a bad deal for the blacks. Economically, we are still on the outside. The economy is very much white. It has a few token blacks, but so many who gave their life in the struggle have died unrewarded," she was quoted as saying. She also said that Mandela was nothing more than a "corporation foundation. He is wheeled out globally to collect the money and he is content doing that."
Photographs of Naipaul and her husband, the Nobel Prize-winning writer V.S. Naipaul, with Madikizela-Mandela were published with the article, which appeared in the London Evening Standard, but Madikizela-Mandela denied the interview ever took place.
Toward the end of his life, as Mandela's health grew poor, Madikizela-Mandela visited him often
After Mandela's death in 2013, Madikizela-Mandela contested his will, in which he left his ancestral home in Qunu in the Eastern Cape to the Nelson Mandela Family Trust for the use of his children and his wife Graca Machel
Madikizela-Mandela claimed the property was hers, and that she remained married to him under customary law despite the 1996 civil divorce. The Supreme Court of Appeal denied her claim in January after a lengthy court battle.
After her death Monday, supporters gathered outside her home in Soweto to remember her.
Tutu paid tribute to her contribution in a statement.
"She refused to be bowed by the imprisonment of her husband' the perpetual harassment of her family by security forces' detentions' bannings and banishment. Her courageous defiance was deeply inspirational to me' and to generations of activists," Tutu said.
The Nelson Mandela Foundation praised her "undying zeal and passion."
"The Mandela name we revere today was kept alive by her through the most difficult times. As a woman she kept the family and the hopes of all black people alive. It's a very sad loss….," the foundation said in a statement.
Energy Minister Jeff Radebe called her "a colossus of the southern African political landscape. As the ANC, we dip our revolutionary banner in salute of this great icon of our liberation struggle."
Madikizela-Mandela was active in politics until the end of her life and recently took part in a drive to encourage ANC voters to register to vote in elections next year.
She was recently admitted to a hospital in Johannesburg for a kidney infection but had been ill for some years. She had been in and out of the hospital since the start of the year, her family said, adding that she died in the early hours of the morning surrounded by her family.