Madame Adolphine Muley Byayuwa, fondatrice de de l'Union pour l'Emancipation de la Femme Autochtone (UEFA), ministre provinciale du Sud-Kivu en charge de l'Agriculture, de l'environnement et du développement rural, députée.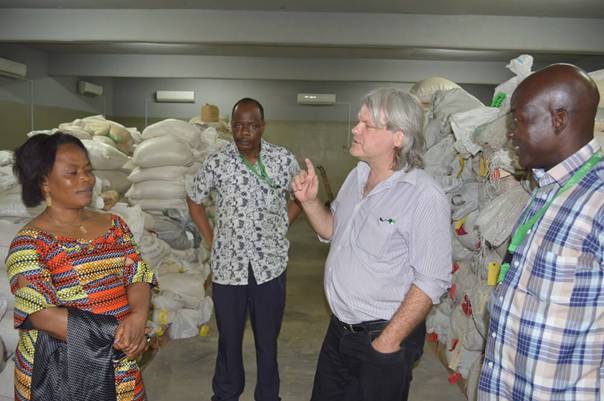 L-R: Adolphine Muley Byayuwa (second from left), Provincial Minister of Agriculture and Rural Development, His Eminence François Xavier Maroy, Archbishop of South Kivu, DG Nteranya Sanginga, OIC Chris Okafor. [bulletin.iita.org]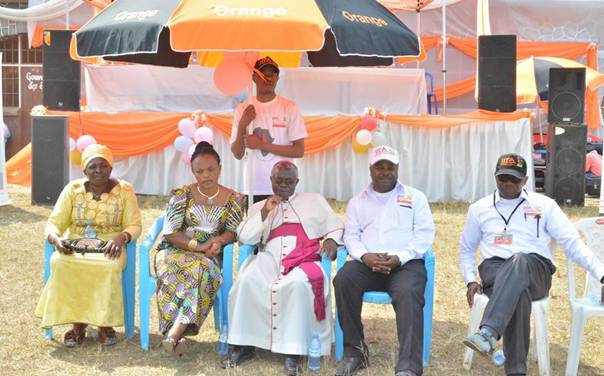 Bernard Vanlauwe takes the Provincial Minister, Ministry of Agriculture, L and and Rural Development, South Kivu, DR Congo, Madam Adolphine Muley Byayuwa on a tour of the Nodumax facility in Ibadan. (DR_CongoMinAgric-300x199.jpg_2016) - bulletin.iita.org
The Provincial Minister, Ministry of Agriculture, L and and Rural Development, South Kivu, DR Congo, Madam Adolphine Muley Byayuwa has expressed optimism that technologies developed by IITA can help transform agriculture in Africa. She made this remark during her visit to IITA, Ibadan, to participate in the Systems Marketplace event organized by the Humidtropics in collaboration with the Forum for Agricultural Research for Africa.
The event, held 15-17 November at IITA, Ibadan, was attended by more than 100 participants from the CGIAR Centers and national agricultural research programs. The three-day event provided space for learning and sharing of ideas among CGIAR Research Programs (CRPs) on how systems perspectives and approaches have been considered going into the 2nd phase of CRPs as well as to share experiences and legacy products arising from research of Humidtropics and others CRPs.
During her stay, Muley took time to visit IITA's Business Incubation Platform (BIP), Facility Management Services (FMS), Postharvest Utilization Unit, and fish ponds, and interacted with the IITA Youth Agripreneurs (IYA) that is engaging young people in agribusinesses. She also visited a community cassava processing factory in Moniya owned by the community which processes 1.5 tons of garri per week and another one that is privately owned, Niji Farms. This processing plant owns a 3000-acre integrated cassava farm located in Ilero, Oyo State, Nigeria. It processes about 15 tons of fresh cassava roots per day.
Excited with what she saw, Muley said that DR Congo has a lot to learn from both IITA and Nigeria in terms of agribusiness and agricultural development. "I am excited about what is happening here because it holds promise for agricultural transformation in Africa," she said.
The Minister said she will work with IITA to help transform agriculture in DR Congo. She also commended the Humidtropics for the work done on systems research in South Kivu Province in Eastern DR Congo.
---
Cour Constitutionnelle : Voici la liste définitive des Députés Nationaux (laprosperite, 9 juillet 2019)
[Madame BYAYUWA MULEY Adolphine est l'élue de la Circonscription électorale de KALEHE].